Principal's Message
Hello MMS Families!
Spring has arrived! The warmer weather has us all a little more energized. Hopefully everyone is taking advantage of the longer afternoons and getting some much needed fresh air.
I would like to emphasize the importance of attendance during the weeks of the state tests
(April 26- May 5). Please block these days out and refrain from unnecessary appointments and be sure your student is in regular, timely attendance. A good night's sleep with a healthy breakfast in the morning goes a long way towards a successful day.
Thank you all for your hard work during these challenging times. We all feel extremely privileged to work in such a supportive community with wonderful students and so many opportunities for our students to grow social/emotionally as well as academically. It's always a great day to be a Brave!!
Sincerely,
Travis Klein
MMS Interim Principal
5 Essentials Parent Survey
To take the survey please visit https://survey.5-essentials.org/Illinois/ and select the appropriate survey to begin.
IAR/ISA Testing
I would like to emphasize the importance of attendance during the weeks of the state tests. The ELA and Math tests (IAR) are scheduled for the first hour on April 26th through April 30th. The Science tests (ISA) are scheduled for May 3rd, 4th and 5th during the first hour. Make up tests will be run in the same weeks during school hours for in-person students.
At this time we plan for remote student schedules to follow the same dates and be administered in-person, starting at 1:30PM with their homeroom classroom. More details will be released shortly, but please block out the above dates (April 26-May 5) from scheduled appointments and be sure your student is in regular, timely attendance.
April Word of the Month
Perseverance: Staying on task; not giving up
MMS Upcoming Events
April 1-5 Spring Break (inclusive)
April 16 Electronic Progress Reports
April 26 - 30 Illinois Assessment of Readiness
May 3 - 5 Illinois Science Assessment
Office News
If you have not paid your instructional fees, please do so at this time. Instructional fees are in Skyward. Reminders have been sent to the families that have not paid.
A reminder that masks will still be required in the second semester and that social distance of six feet, when and wherever possible, will be observed. Frequent handwashing will be encouraged along with personal or classroom hand sanitizer use. Students need to come with a certification lanyard showing that they are symptom free and have not had recent exposure.
School Supplies
Counselor's Corner
Goodbye Winter! Hello Spring! Each year we try to do a little Spring Cleaning around the house. We can also consider doing a little Spring Cleaning to our Mental Hearth. Here are a few tips for an annual mental health spring cleaning!
Restructure Your Time-Daylight Savings Time gives us more daylight at the end of the day. Structure your day accordingly to use the daylight and the nice weather to brighten your day. It will help the children too!

Start a Routine or Ritual-Build something into your day that will positively impact your mental health. Finding a routine or ritual can reduce stress, and help us stay in the present. (ie. Yoga, sewing, drawing, reading a new book or magazine)

Stop Complaining-This is very important to create happiness! Complaining brings negative energy into the world. Control the daily stressors with mindfulness breathing or giving compliments instead.

Practice Gratitude-Try starting a Gratitude journal! Write one thing that what you are grateful each day!

Reach Out to Others-Helping others can give us a sense of helpfulness. In turn, we may also need help. Supporting each other is a good way to support our mental health.
Just a reminder the Counseling Staff is here if you or your child needs us. Here is a link to our MMS Counseling Website. There are great resources if you need them.
A big THANK YOU to Ms. Elyse Rench, School Counseling Intern, for all of her work with the MMS students this semester. She will be finishing up her Masters in School Counseling at the end of April and will be leaving us. Congratulations and best wishes in the Counseling Profession! We will Miss You!
Absences
We will continue to use Zoom or in-person attendance to take hourly attendance.
For an in-person student to be counted as present they must physically be present in their classroom at school on their days.
OR
Students who are remote-only MUST Zoom for attendance and instruction. That is, students who are attending school remotely and remote-only are to attend school in their classroom Zoom each period. Teachers have one classroom, some students are geographically and physically in their classroom and others are present electronically.
Please contact the office beckerl@msd19.org or call 618-566-2305 if your child will be absent from in-person or remote instruction. Please call by 9 AM.
The MMS library is open! Remote students may request books, and the books will be pulled and placed in the MMS office for pick up!
Click on the heading above to go to the MMS Library web page where you can find instructions on how to request books.
Base News
Students can get a $5 gift card at the Base exchange (BX) as part of the "You Made the Grade" program for maintaining a B average or above.
First- through 12th-graders who maintain a B average or higher are eligible for a $5 Exchange gift card every grading period during the 2021 school year. To receive the $5 Exchange gift card, students can visit the Exchange, present a valid military ID, and show their report card at customer service. Additionally, the Exchange is hosting a Vietnam Memorial Pin Day on March 29 at 11 a.m. Lapel pins will be available for pick up at the store.
The expanded eligibility for the Tutor. com for U.S. Military Families™ program will continue! The Department of Defense MC&FP will continue expanded coverage of Tutor.com services to all Active Duty, National Guard, Reserve, and Wounded Warrior service members; DoD civilian personnel; and ALL of their dependent children and spouses! They originally expanded the eligibility in response to COVID in April of 2020 and it was on a temporary basis. Given the popularity and need of the program, they have chosen to continue expanded coverage. Everyone eligible can get started by creating their own free account at www.tutor.com/military. I have included a PDF file with the subjects list of the 100+ subjects we offer from Kindergarten- College.
Our new mobile app is finally out and is pretty awesome! It is far more user friendly than the old version of our app AND it allows students to have all the functionality through the mobile app that they would have using Tutor.com through their web browser.
PE Opportunities
As mentioned in our Plan, PE will continue to be asynchronously taught in the second semester unless conditions improve to indicate the change. This is to assist staffing matters as we are faced with the current COVID situation. However, when available, our very dedicated and excellent PE teachers are offering PE opportunities at school for in-person students. The course work is still offered online asynchronously but opportunities for some activity are happening when staffing allows it. If students want to participate in these opportunities it is important to wear PE friendly shoes each day.
In-Person Students will self-certify their health daily by wearing their self-certified lanyard as they enter the building. Please remember masks covering the nose and mouth are required when in the building. Wash your hands frequently.
The world as we know it has changed. COVID-19 affects us all everyday. Please review the precautions listed on the MSD Health Center and prepare to follow the guidelines.
Clubs and Activities
Click Here for the activities fair!
If you are looking for ways to get involved or interact more with your peers in our remote environment, take a tour with the MMS Virtual Activity Fair. Some of the sponsors and activities have changed for this year so we have provided updated information.
IPA Student Recognition
Congratulations to Addison Seibert, the MMS recipient of the 23rd annual Illinois Principals Association student recognition award. Neema Kimeu, Benjamin Woodburn, Aiden Evans, Reece Miller, Cameron Doyle, and Mallory Doyle were also nominated for this award, which recognizes students for outstanding overall performance. All of these students are good role models and excellent students who exhibit the school-wide traits of respect and responsibility on a daily basis.
Sports
Mascoutah Middle School Athletic Information
Undefeated 8th Grade Girls Volleyball Team
7th Grade Girls Volleyball Team
6th Grade Girls Volleyball Team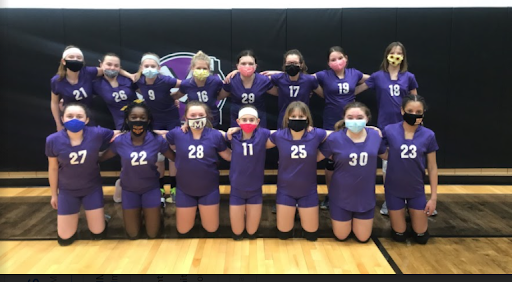 7th Grade Boys Basketball
MMS Girls Bowling
8th Grade Boys Basketball
We are offering training videos and additional troubleshooting information for parents and students to learn more about products and procedures during Remote Learning.
For Chromebook issues, please visit the District Help Desk.
https://sites.google.com/msd19.org/e-learning-portal/help-desk
Cafeteria: Lunch and Breakfast
Students who are in-person as a Hybrid student can order lunch each day they are in the building during their first hour class. They will get lunch for that day and breakfast for the following day in their grab-n-go at dismissal. We have tried to improve the lunch pick-up process by handing out lunch tickets to those that signed up for lunch. This is working very well. Hybrid students on their remote day AND remote only students will continue to order their meal through Skyward as we have done since the beginning of the year. Meals for remote day and remote only students will be picked up at the Elementary Schools only from 11:00am to 2:00pm.
The State of Illinois is approved to provide new Pandemic Electronic Benefits Transfer Program (P-EBT) benefits to all eligible Illinois students. Eligible families do not need to complete a P-EBT application. However, families are encouraged to complete a Household Eligibility Application to determine eligibility for free or reduced meal status if they have not already for School Year 2020-21. It is also essential to ensure your mailing address on file at your enrolling school is current. Please note that citizenship status does not affect eligibility.
PTO
PTO is looking for an individual or group to help with Box Tops. If you are interested, please call the office at 618-566-2305.
Wear your PURPLE every Friday to show your spirit!!!
Engaging every student, every day, in quality learning opportunities.
Remember to check out the MMS website for News, Events and our Live Feed. Follow us on Twitter and follow the District's Facebook page for even more information.