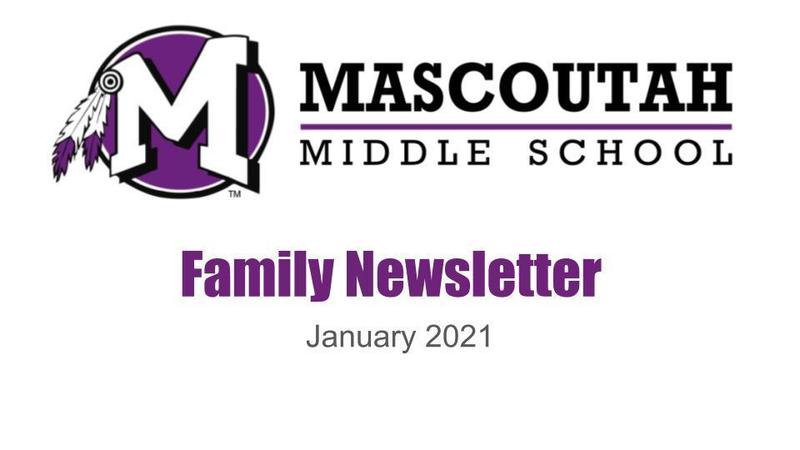 Principal Message
My hope is that every family has a restful break, a safe and healthy break, and has the happiest of Holidays! This year, starting last March, has clearly not been what any of us imagined or would have wanted for our children, our selves nor our country. However, I have been so impressed and moved by the support for students and school by our families. Your dedication, determination and sacrifices are a credit to our community. Our students, struggling in a new world with new ways to learn have risen to the occasion. Lastly, I have not been prouder of a faculty and staff than I could be of the team here at MMS. From the Cafeteria Workers to Administration (here and the Central Office), from our Custodial staff and counselors, to our exemplary Aides and Teachers, I have seen such amazing work and growth to be there for students, families and each other. "Necessity is the mother of invention;" this has never been proved more true as by our team of educators.
My hope is that our second semester moves us closer to a greater normalcy. My hope is that students, families and all of us stay strong and continue the path of being life-long learners.\
Thank you, to all of our families and faculty/staff.
May you all truly, with our students, have the Happiest of Holidays.
Empathy: Understanding someone else's feelings; putting yourself in another's shoes
Winter Break - December 21- January 1

3rd Quarter begins - January 4

Students will stay in remote learning from January 4-11, 2021.
The remote learning schedule used from December 14-18 will be the same schedule for this next phase, January 4-11.
Secondary Schedule (January 11-15)

Monday, Jan. 11: Full Remote

Tuesday, Jan. 12: A Day (A-K)*

Wednesday, Jan. 13: B Day ( L-Z)*

Thursday, Jan 14: A Day (A-K)*

Friday, Jan. 15: B Day ( L-Z)*
* Students will be in attendance as they were the week of December 7, 2020.
MLK Birthday No School - January 18

Jan. 19: A Day (A-K) Hybrid for MMS 7th & 8th

In-person instruction for all MMS 6th students

Jan. 20: B Day (L-Z) Hybrid for MMS 7th & 8th

In-person instruction for all MMS 6th students

Jan. 21: At MMS all 6th, 7th & 8th choosing in-person students are in attendance

Jan. 22: At MMS all students choosing in-person are in attendance

Board of Education Meeting - January 20
Office News
If you have not paid your instructional fees, please do so at this time. Instructional fees are in Skyward. Reminders have been sent to the families that have not paid.
A reminder that masks will still be required upon the return to school in the second semester and that social distance of three to six feet will be observed. Frequent handwashing will be encouraged along with personal or classroom hand sanitizer use.
School Pictures
The retakes have been scheduled for the following dates:
Tuesday, January 12th ("A" day)- 10-12:30pm - with 1-3pm for remote students
Wednesday, January 13th ("B" day") - 10-12:45pm.
The deadline for ordering the 2020-2021 MMS Yearbook is March 1st. Place your order now!
Absences
We will continue to be using Zoom or in-person attendance to take hourly attendance.
For a student to be counted as present they must physically be present in their classroom at school on their A (A-K) or B (L-Z) days.
OR
Students who are on their remote day or remote-only days MUST Zoom for attendance and instruction. That is, students who are attending school remotely and remote-only are to attend school in their classroom Zoom each period. Teachers have one classroom, some students are geographically and physically in their classroom and others are present electronically.
Please contact the office beckerl@msd19.org or call 618-566-2305 if your child will be absent from in-person or remote instruction. Please call by 9 AM.
The MMS library is open! Remote students may request books, and the books will be pulled and placed in the MMS office for pick up!
Click on the heading above to go to the MMS Library web page where you can find instructions on how to request books.
PE Opportunities
As mentioned in our Plan, PE will continue to be asynchronously taught in the second semester unless conditions improve to indicate the change. This is to assist staffing matters as we are faced with the current COVID situation. However, when available, our very dedicated and excellent PE teachers are officering PE opportunities at school for in-person students. The course work is still offered online asynchronously but opportunities for some activity are happening when staffing allows it. If students want to participate in these opportunities it is important to wear PE friendly shoes each day.
In-Person Students will self-certify their health daily by wearing their self-certified lanyard as they enter the building. Please remember masks covering the nose and mouth are required when in the building. Wash your hands frequently.
The world as we know it has changed. COVID-19 affects us all everyday. Please review the precautions listed on the MSD Health Center and prepare to follow the guidelines.
Clubs and Activities
Click Here for the activities fair!
If you are looking for ways to get involved or interact more with your peers in our remote environment, take a tour with the MMS Virtual Activity Fair. Some of the sponsors and activities have changed for this year so we have provided updated information.
Sports
Mascoutah Middle School Athletic Information
All sports are on hold at the moment.
We are offering training videos and additional troubleshooting information for parents and students to learn more about products and procedures during Remote Learning.
For Chromebook issues, please visit the District Help Desk.
https://sites.google.com/msd19.org/e-learning-portal/help-desk
Cafeteria: Lunch and Breakfast
Students who are in-person as a Hybrid student can order lunch each day they are in the building during their first hour class. They will get lunch for that day and breakfast for the following day in their grab-n-go at dismissal. Hybrid students on their remote day AND remote only students will continue to order their meal through Skyward as we have done since the beginning of the year. Meals for remote day and remote only students will be picked up at the Elementary Schools only from 11:00am to 2:00pm.
PTO
Wear your PURPLE every Friday to show your spirit!!!
Engaging every student, every day, in quality learning opportunities.
Remember to check out the MMS website for News, Events and our Live Feed. Follow us on Twitter and follow the District's Facebook page for even more information.